Well, today it was somewhat of a rainy start to the day. I met up with the Inoue family at the base of Sunshine Ski Area, but the heavy rain did not look too good for hiking. We decided to check out the naturally formed canyon on the 1A highway near Castle Mountain. Johnston Canyon has 7 very interesting waterfalls and is a narrow river that has carved out the rock by erosion over many years. We hiked up the lower falls and part way up the upper falls, both were really amazing and still in mid-August the water level was quite high. We even got to go through the small tunnel that takes you right in front of the lower falls (we got a little wet there!)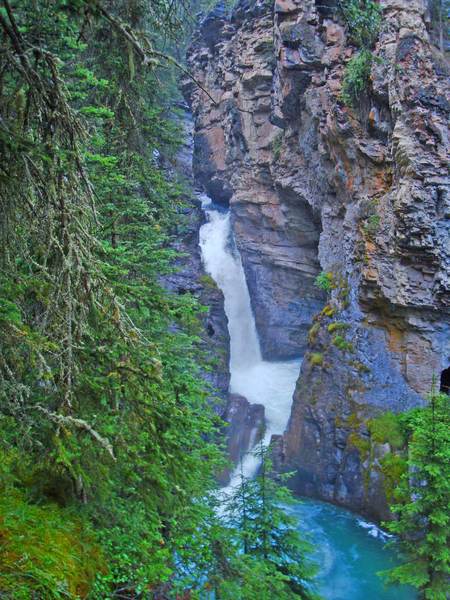 We then made our way back to Sunshine via the via 1A highway and took the bus up at 12:00, although it was raining at the bottom, it was SNOWING at the top! We ate our lunch of onigiri bentos in the ski lodge and then decided to head up to Rock Isle Lake. Once we started it began to snow again and there was about 3cms on the ground!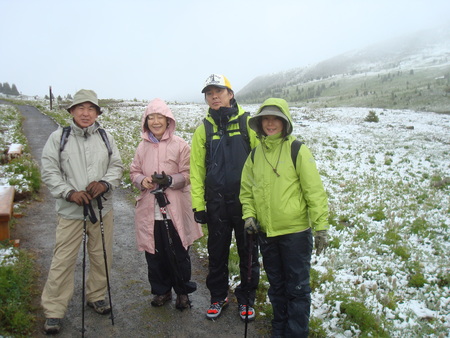 Luckily the mountain god was on our side and the sun broke through, the clouds lifted and the snow melted away to reveal many flowers like the Western Anemnome, Heliotrope and Indian Paintbrush. We were all happy to see the sun come out and thus decided to stay longer and take the 4:30 PM bus out. We headed around the lake and descended towards Grizzly Lake where the flowers were really blossoming! Upon returning towards the ski hill we got to see many Columbian ground squirrels and the rest of the ski runs on Goats Eye Mountain. Can you imagine we had rain, hail, snow and sun all in one day? Welcome to the Rockies in August! All in all it was a great day though and lots of fun seeing the plants and animals of the high alpine.